lollapalooooooza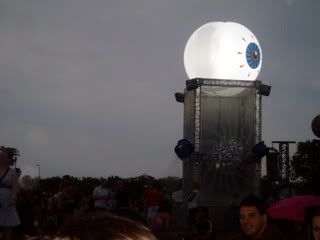 i had a crazy weekend. my friend rachel came to visit from ohio.

i haven't seen her in 2 years. we went to lollapalooza.
friday:
m.i.a.

blonde redhead

the black keys

lcd soundsystem

& daft punk
------------------------
i had work until 3ish so i went straight there after. rachel and ava got me in for free. we saw the end of mia shaking her ass. blonde redhead was good of course. the black keys i had never heard before the show but i really liked them. lcd soundsystem was fun everyone was dancing. it was a good audience. but NOT as good as daft punk. we left lcd a little early to get up close for daft punk. i saw the pyramid behind the curtain and was more than excited. i went crazy when i saw them. they remixed there songs. it was amazing... better than amazing!! it was a massive sweaty orgy and everyone was loving it. i was dancing even after the show was over.




daft punk & the pyramid



in the middle of the dance pit




sweating balls after daft punk
saturday:
cold war kids

the roots

regina spektor

yeah yeah yeahs

spoon

interpol


-------------------------------
before we went to lollapalooza we stopped by eleven diner to get some food. the owner came over and saw rachel and ava's wrist band and asked me where mine was. i said "there going to sneek me in". he reached into his pocket and pulled out a ticket, handed it to me and said "your the cutest girl to come in here without a ticket". so i got in for free without having to sneek!! it was so great. the roots were amazing. the bassist, hub, and guitarist, kirk, played solo's which blew me away. they can mother fucking rock out! quest love, the drummer, was awesome too. at the end he threw his drumsticks and after the two went flying into the audience he pulled more out of his sweater. he had about 10 hiding in there.haha. the yeah yeah yeahs put on a great show too. karen o came out in a crazy cat woman-like costume. she was adorable. probably drunk cause when she talked in between songs she laughed a lot. we were in the middle of a crazy dance/ mosh pit. i got my hair pulled and i was thrown around but it was fun. interpol played last and we hung out in the back area and just danced.




us after yeah yeah yeahs.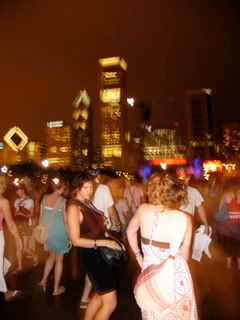 me and rachel dancing to interpol.



me. ava. & rachel.
sunday:
the 1900s

amy winehouse

iggy and the stooges

modest mouse

pearl jam


---------------------------


i got there as early as possible. we saw the 1900's who are a chicago band. then we ran to the stage modest mouse was going to play on. we sat threw amy winehouse and iggy and the stooges just to be front row for modest mouse. it was totally worth it. amy had an amazing voice.. better than she sounds on cd.. but she was pretty boring. she didn't move around a lot and her audience was a bunch of prissy girls with brand new marc jacobs glasses and expensive clean clothes. amy winehouse's husband is the hot as fuck. i was taking pictures of him and not her haha. iggy pop is one crazy mother fucker! he's about 60 years old running around like he just snorted an 8 ball. he was kicking camera men in the face and jumping into the audience. then he said "come up on stage with me" and everyone pushed forward. me and laura were getting trampled and people were climbing over us. total there was about 400 people on stage with iggy. there was only suppose to be 30 haha! modest mouse was worth the 6 hour wait. they were fun. issac has a funny voice when he just talks. but they had all the instruments... banjo and accordion. they played city made of ashes so i was happy :) pearl jam's lead singer is old but really sexy. we were so tired after modest mouse so we just sat in the lawn and listened. there was so many people it was ridiculous.



modest mouse




front row :)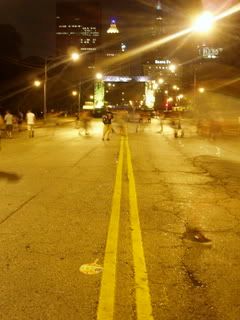 lollapalooza aftermath...

check out the videos !!

by sydneypidney